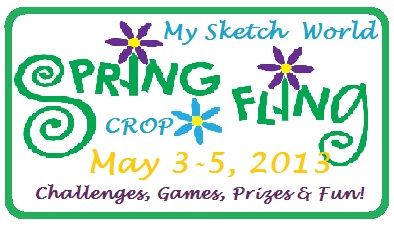 We're going to have lots of fun SPRING themed challenges for you and we can't wait to see what you come up with! Here's the lowdown on how things will go...
Challenges will be posted on May 3rd, 4th and 5th.
There will be both card and layout challenges.
You must make the project specified in the challenge (card, layout, etc.) in order for it to count towards a prize draw.
Challenges may NOT be combined.
You can do a challenge as many times as you'd like, but it will only count ONCE towards a prize draw.
All challenge entries must be posted in the Spring Fling Gallery and linked to your "spot" by the deadline to be counted in the prize draw.
Prizes will be awarded by random draw.
Participants will receive one prize draw per challenge completed. Additional prize draws will be awarded throughout the crop.
Deadline for all challenge entries is Sunday, May 19th at midnight PST.